ESE2021-1
Women in Abstraction. Another History of Abstraction in the 20th Century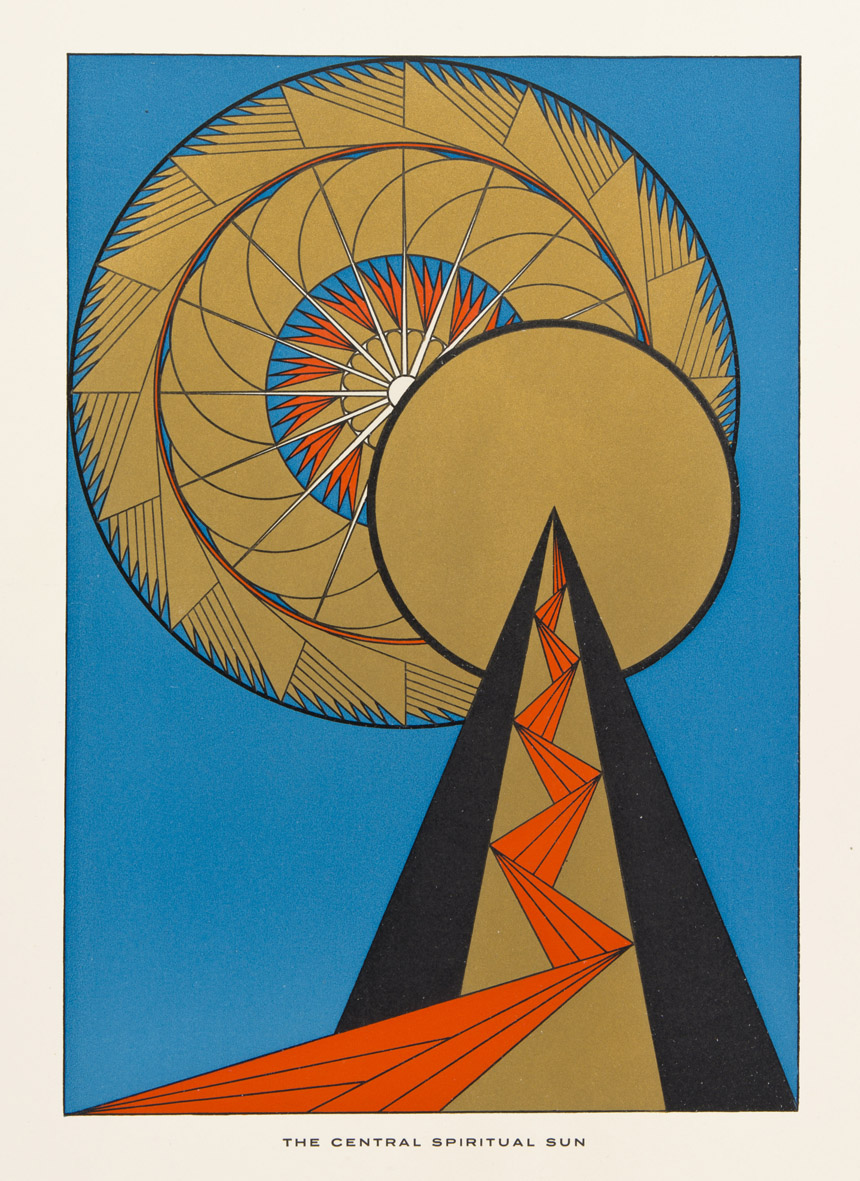 The Eranos Foundation is pleased to inform that it has contributed to the prestigious exhibition "Elles font l'abstraction. Une autre histoire de l'abstraction au XXe siècle" ["Women in Abstraction"], curated by Christine Macel, scheduled in a first display at the Centre Pompidou in Paris (May 5-August 12, 2021) and in a second display at the Guggenheim Museum in Bilbao (October 22, 2021-February 27, 2022). In particular, Eranos has granted the loan of 6 paintings created by its founder, Mrs. Olga Fröbe-Kapteyn (1881-1962), and with the editing of a text dedicated to her, written by Fabio Merlini and Riccardo Bernardini, in the exhibition catalog.
The exhibition, dedicated to "Women in Abstraction", aimed at integrating into the history of abstract art the contribution of one hundred and six women artists, many of whom have so far been considered "outsiders", thanks to the presentation of five hundred works created between 1860 and 1980. Intended for both specialists and the general public, the exhibition highlighted the work of many female artists who have not received visibility or recognition beyond the borders of their countries or even within their own homeland. In addition to focusing on the careers of these artists who have been unjustly forgotten by art history, the exhibition emphasized their specific contribution to the history of abstraction.
Born in London to Dutch parents, Olga Fröbe-Kapteyn showed an interest in iconography from an early age, when her father, Albertus Philippus Kapteyn (or Kapteijn), developed photographic film in his darkroom, under the curious eyes of his daughter. Her mother, Geertruida (Truus) Agneta Kapteyn-Muysken, was involved in movements for women's emancipation and social renewal. From 1900, Olga Fröbe-Kapteyn attended the Zurich School of Applied Arts and, from 1906 to 1909, studied art history at the University of Zurich. In 1909 she married flutist and conductor Iwan Fröbe. Widowed in 1915, she run a cultural circle in Zurich and, in 1919-1920, she benefited from natural cures at the Sanatorium Monte Verità in Ascona. In 1920 she moved to Ascona, to Casa Gabriella, where for several years she devoted herself - with her daughter as her only companion - to the study of Eastern and Western spirituality. From the mid '20s, she began to paint abstract forms as a support to his meditative practice. These paintings express through a geometric rigor that eschews any naturalism of form: the result is an abstractionism, in which is staged a spirituality purged of any corporeity. Olga Fröbe-Kapteyn initiated the project of the Eranos Conferences in 1933. The Eranos conferences, which are still held today, attracted many of the most influential scholars of the 20th and 21st centuries. In 1934, the psychologist Carl Gustav Jung, one of the main animators of the Ascona symposia, commissioned her to pursue an iconographic research for his studies on alchemy and archetypes. The thousands of symbolic images went to form the Eranos Archive for Research on Symbolism (donated to the Warburg Institute in the mid-1950s). Olga Fröbe-Kapteyn's artistic practice, downstream of an ever-increasing deepening of Analytical Psychology, gradually evolved in the direction of softer and more realistic forms, though always rich in symbolism, according to the Jungian technique of "active imagination". Even in this case, her works were never intended as artistic creations in the strict sense, but always as a support to her individuation process. Convinced that "the deepest things of human existence [...] can only be expressed in images", Olga Fröbe-Kapteyn dedicated the second half of her life to cultivating her cultural enterprise, Eranos.
In connection with the exhibition, the Centre Pompidou has launched the MOOC (Massive online open course) "Elles font l'art" ("Women in Art," January 21-June 25, 2021). The course - online, free, and open to all - is dedicated this year to female visual artists, painters, photographers, video artists, and performers of all nationalities who, since 1900, have contributed and are still contributing to the art of the 20th and 21st centuries. Through a chronological path, the Centre Pompidou invites you to discover another history of modern and contemporary art dedicated to women's artistic creation. This is a new way for the Centre Pompidou to strongly affirm its commitment to women and gender equality.
For more information on Olga Fröbe-Kapteyn's iconography, refer to this article: Riccardo Bernardini and Fabio Merlini, "Olga Fröbe-Kapteyn (1881-1962): A Woman's Individuation Process through Images at the Origins of the Eranos Conferences," ARAS Connections: Image and Archetype, 4 (2020): 1-18.
Catalogues:
Elles font l'abstraction, édité par Christine Macel et Karolina Ziebinska-Lewandowska, Centre Pompidou, Paris 2021, ISBN 978-2-84426-894-5
Elles font l'abstraction. Exhibition Album, édité par Christine Macel et Laure Chauvelot, Centre Pompidou, Paris 2021, ISBN 978-2-84426-895-2
Women in Abstraction, edited by Christine Macel and Karolina Ziebinska-Lewandowska, Thames & Hudson, London and New York, NY 2021, ISBN 978-0-500-09437-2
Mujeres de la abstracción, bajo la dirección de Christine Macel y de Karolina Ziebinska-Lewandowska, Centre Pompidou y FMGP Guggenheim Bilbao Museoa, Bilbao 2021, ISBN 978-8495216-93-9
---