| SPECIAL EVENTS |
ESE2020-01
Jung's Red Book for Our Time: Searching for Soul Under Postmodern Conditions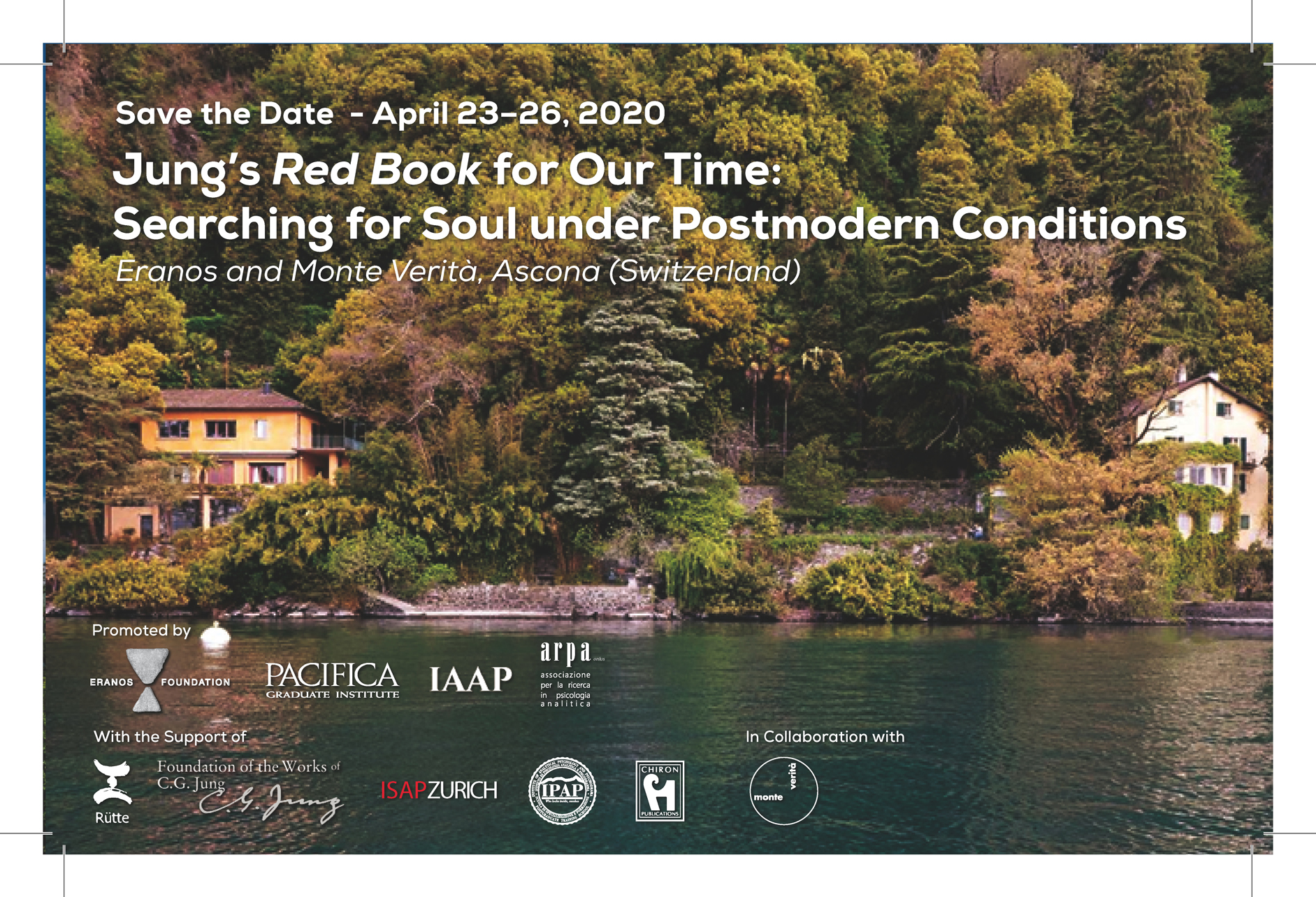 "Il Libro rosso di Jung per il nostro tempo: alla ricerca dell'anima nel mondo postmoderno"

23-26 aprile 2020, Eranos e Monte Verità, Ascona (Svizzera)
'Jung's Red Book for Our Time: Searching for Soul Under Postmodern Conditions'
April 23-26, 2020, Eranos and Monte Verità, Ascona (Switzerland)
Presentazione
Viviamo in una fase storica di volatilità globale e di profonda incertezza sul futuro. Molto probabilmente, questa sensazione di disagio si protrarrà negli anni a venire. Non comprendiamo ancora a sufficienza il processo di trasformazione globale in cui siamo entrati molti anni fa, come già testimoniato e documentato da Carl Gustav Jung, all'inizio del XX secolo, nel Libro rosso. Quando Jung ha intrapreso il proprio viaggio interiore alla ricerca dell'anima, si trovava in tempi altrettanto volatili. Rivolgendosi verso l'interiorità, ha creato un'opera che ha dato alla sua vita un senso e una direzione con un ampio significato culturale. Oggi più che mai, Il Libro rosso ha un enorme potenziale per diventare un'opera epocale per il mondo postmoderno del XXI secolo, offrendoci una preziosa guida in questi tempi incerti e turbolenti.
Presentation
We live in a historical phase of global volatility and deep uncertainty about the future. Most probably, this uneasy feeling will linger on for years to come. We do not understand sufficiently the global transformation process we have entered into beginning many years ago, as already registered and reflected by C. G. Jung in the early 20th Century in The Red Book. When Jung embarked on his inner journey of soul searching, he found himself in similarly volatile times. Turning inward, he created a work that gave his life a sense of meaning and direction with broad cultural significance. Today, The Red Book has enormous potential for becoming an epochal opus for a world living in the postmodern condition of the 21st century, offering us guidance in our present turbulent and uncertain times.
Comitato organizzativo / Program Committee
Thomas Arzt · Joseph Cambray · Murray Stein · Riccardo Bernardini
Relatori / Lecturers

Stephen Aizenstat
Thomas Arzt
Riccardo Bernardini
Paul Bishop
Joseph Cambray
Linda Carter
Al Collins
Len Cruz
Thomas Fischer
Toshio Kawai
Romano Màdera
Christine Maillard
Frank N. McMillan III
Robert M. Mercurio
Fabio Merlini
Elaine Molchanov
Lance S. Owens
Heyong Shen
Murray Stein
Promotori / Promoters
Eranos Foundation (Ascona, Switzerland)
Pacifica Graduate Institute (Santa Barbara, California, USA)
IAAP International Association for Analytical Psychology (Zurich, Switzerland)
ARPA Associazione per la Ricerca in Psicologia Analitica (Rome-Turin, Italy)
Con il sostegno di / With the Support of
Existential-psychologische Bildungs- und Begegnungsstätte Todtmoos-Rütte Schule für Initiatische Therapie (Todtmoos, Germany)
Foundation of the Works of C.G. Jung (Zurich, Switzerland)
ISAP International School of Analytical Psychology (Zurich, Switzerland)
IPAP Institute of Analytical Psychology and Psychodrama (Ivrea, Italy)
Chiron Publications (Asheville, North Carolina, USA)
In collaborazione con / In collaboration with
Fondazione Monte Verità (Ascona, Switzerland)
Iscrizioni
Il Convegno è a numero chiuso. Per questa ragione, l'iscrizione è obbligatoria, via email, scrivendo a info@eranosfoundation.org, o telefonicamente, al numero +41 (0)91 792 20 92.
Registration
Please note that the Conference has limited places. For this reason, advanced registration is required, by email, info@eranosfoundation.org, or by phone, at +41 (0) 91 792 20 92.
Lingua
Le conferenze sono in lingua inglese.
Language
The lectures will be in English language.
---